Rice offers more than 50 undergraduate majors across six divisions of study, including architecture, engineering, humanities, music, natural sciences and social sciences. Additionally, minors, interdisciplinary and preprofessional programs complement our comprehensive curriculum, with multiple opportunities for research and collaboration.
Need Help?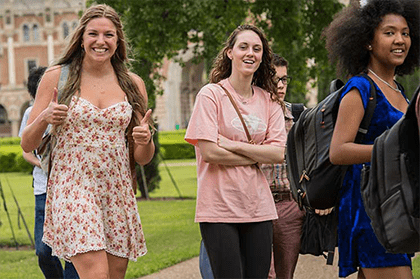 The Office of Academic Advising
at Rice University leads and engages a community of academic advising that strives for an unparalleled environment for students to explore opportunities, identify goals and implement plans to reach those goals.
Visit the Office of Academic Advising website
Graduate Studies
---
Whether you're seeking to research, invest in your current path or make a career change, Rice University's graduate studies is dedicated to helping you achieve your goals. Our prestigious professional and research-oriented programs are highly selective, and they attract some of the world's brightest and most talented minds.