Rice University is celebrating National Hispanic Heritage Month, September 15 through October 15, by spotlighting the history, contributions and achievements of Latino/a/e/x communities, especially as they relate to the campus community.
---
Introducing Our Heritage Month (OHM). With Rice's core values of belonging, inclusivity, and visibility in mind, OHM is our response to the vast and varied experiences within our community. We recognize that labels such as Hispanic and Latino/a/x/e come with their complexities, representing diverse experiences, histories, and identities. OHM is not just about a change in name but an embracement of all these nuances.
OHM highlights a range of celebratory and educational events on campus in honor of Hispanic Heritage Month, featuring discussions, food and celebration. The calendar attached here highlights a range of celebratory and educational events on campus in honor of HHM, featuring discussions, food and celebration. For streamlined event information, we've suggested groups register their events on the Rice Events page and Owl Nest. Many of the events on the calendar contain links to view more information.
OHM is more than just a celebration; it's also an opportunity to reflect, educate, and engage in meaningful discourse about our histories and the socio-political landscapes we navigate. As a prestigious institution like Rice University, we aim to intellectually stimulate and culturally enrich students, staff, faculty and the wider community.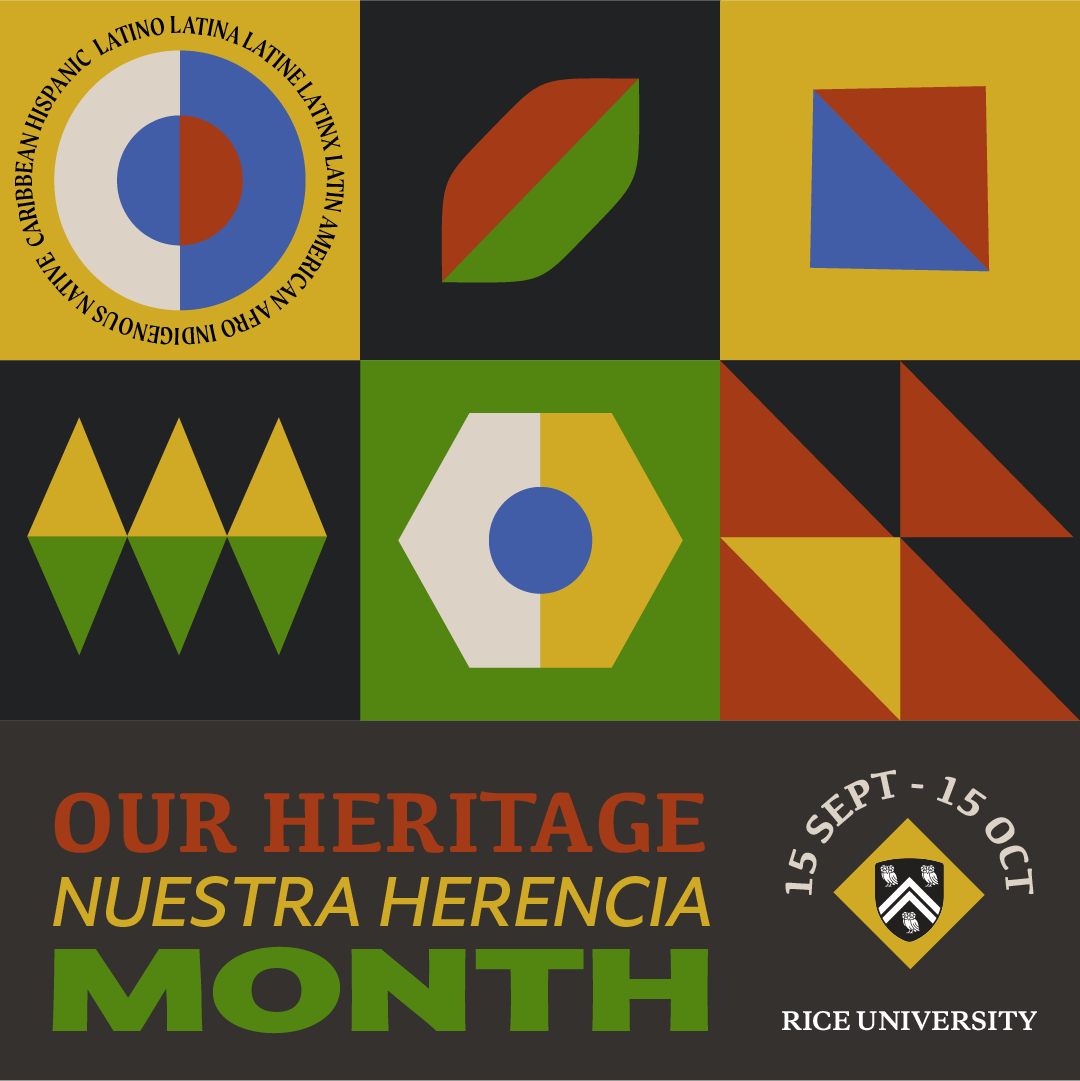 The planning committee recruited 15 students and 17 staff and faculty members to design the month-long programming, bringing together Owls who identify as Latino/a/e/x, as well as a consortium from different backgrounds, interested in supporting Hispanic communities.
The Office for Diversity, Equity and Inclusion; Multicultural Center; and Multicultural Community Relations are coordinating several of the public events. For a full list of upcoming events, see below.
Click here to mark your calendar with our OHM Kick-Off event on Thursday, September 14th in the MCC. We will also have weekly hangouts in the MCC every Thursday from September 21 to October 12.
We'd love for you to join us as we come together as a community throughout the month. Let's embark on this journey of understanding, appreciation and celebration together.
---
Our Heritage Month Events
September 12-20, 2023

September 21-28, 2023

| Date | Time | Event | Location/Details |
| --- | --- | --- | --- |
| Sept. 21 | 3-5 p.m. | OHM Weekly Hangout | Multicultural Center |
| Sept. 21 | 5-6 p.m. | The African Heritage of Latinx and Caribbean Literature', Dr.Sarah Quesada, Duke University, Lecture Series | Sewall Hall 309 |
| Sept. 21 | 8-10 p.m. | Owls After the Dark x HACER Loteria Night | Grand Hall & Sammy's |
| Sept. 25 | 7-8 p.m. | Vamos A Bailar! | Ray's Courtyard, RMC |
| Sept. 28 | 3-5 p.m. | OHM Weekly Hangout | Multicultural Center |

September 29 - October 6, 2023

| Date | Time | Event | Location/Details |
| --- | --- | --- | --- |
| Sept. 29 | 5 p.m. | Poetry Reading with Tomás Q. Morín | Welcome Center, Sewall Hall |
| Oct. 3 | 8-10 p.m. | Movie Night with HACER | Miner Lounge, RMC |
| Oct. 5 | 3-5 p.m. | OHM Weekly Hangout | Multicultural Center |
| Oct. 5 | 8-10 p.m. | Game Night with HACER Socials | Sammy's, RMC |
| Oct. 5 | 6 p.m. | "Nueva Vivienda: New Housing Paradigms in Mexico" with Jesús Vassallo-Fernandez | Welcome Center, Sewall Hall |
| Oct. 6 | 4-5 p.m. | "A Kiss Across the Ocean" Richard Rodríguez, University of California Riverside, Lecture Series | Humanities 119 |

October 6 - 15, 2023

| Date | Time | Event | Location/Details |
| --- | --- | --- | --- |
| Oct. 11 | 8-10 p.m. | HACER Karaoke | Student Resource Center, RMC |
| Oct. 12 | 3-5 p.m. | OHM Weekly Hangout | Multicultural Center |
| Oct. 15 | 6-8 p.m. | OHM Closing Event: Roundtable discussion with Houston Activists | Farnsworth Pavilion, RMC |